The other side follows the acclaimed artist David Trubridge as he travels to the ends of the earth. A "love letter to land and sea" is a travelogue, photography and deep reflection.
The result is moving: a lucid prose that crosses the geological and the historical, the poetic and the ecstatic. What does it mean to write about nature from a limited human point of view? What does it mean to be modern, to "live beyond the toil that has kept us close to the earth"? Taking leave of myopic cities, where nature is reduced to ornamentation, David Trubridge takes the opposite path.
His testimonies reflect a life lived differently, whether it's 5 years of offshore sailing or an acute awareness of local specificities. These detailed observations accumulate over the years and open up a new sense of belonging based on a deep reciprocity between humans, plants and animals. With humility and respect, The other side reflects on what it means to be part of a world that is both beautiful and threatened.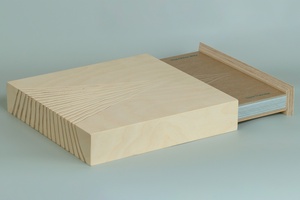 The official launch party of The other side will take place on Friday 26 August at the Heartland Bank Room Foyer, Aotea Centre, Auckland. It's a free event.
The book (published July 15, 2022) was nominated for a Best of 2022 award in the Editorial and Books category. It sells for NZ$98.99. The special edition box sells for NZ$299.00.
Buy the other way here.
David Trubridge ONZM is best known as one of New Zealand's most successful lighting and furniture designers. He was born in England in 1951 but left on a yacht in 1982 and settled in Aotearoa soon after. Since that time, David has become internationally recognized for his environmentally friendly designs. His works have been exhibited at the Victoria & Albert Museum, the Center Pompidou, the National Museum of Modern Art in Paris, the Nobel Peace Center and many other places. He is a TEDx speaker and has lectured on design around the world. His first book, So farwas published by Craig Potton in 2015.